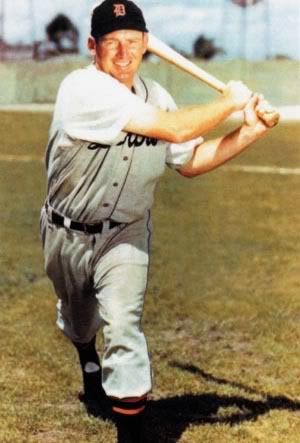 The sad news of passing of Hall of Famer George Kell at his home in Swifton, Arkansas in his sleep on March 24, 2009 has just come out.
The former star third baseman Kell grew up in Swifton and lived in the same house from his birth to the time it burned down in 2001. It was rebuilt on the same land.
I had the good fortune to interview this true southern gentlemen and twice over the past few years – for my REMEMBERING YANKEE STADIUM (2009) and for my REMEMBERING FENWAY PARK to be published in 2011. Both times he was forthcoming, anecdotal, interesting.
For the Yankee Stadium book he offered unique insights about what it was like to come in and perform there as an opposing player.
The multi-time All Star played for the Red Sox from 1952 to 1954 and really enjoyed the fans and the environment at Fenway Park.
Here, in draft form, is just some of the oral history subject matter he gave me: (FOR MORE - - BUY REMEMBERING FENWAY PARK in 2010)

GEORGE KELL: Fenway Park was sort of made for me. I didn't have a lot of power. I'm a right-handed hitter and I could reach that left-field fence occasionally. And I just loved that ballpark. The people were great. The stands were full every day. It was just baseball, baseball. I couldn't wait to get out there.
I was traded from Detroit to Boston on June 3, 1952:
Hoot Evers
,
Johnny Lipon
, and
Dizzy Trout
for
Bill Wight
,
Walt Dropo
,
Fred Hatfield
,
Johnny Pesky
, and
Don Lenhardt
. and the first day there I hit a home run over the left-field fence and I hit a double off of the left-field fence and I thought "my goodness, what could I do here? I'm liable to hit a lot of home runs and a lot of doubles." But it wasn't that way, it wasn't that easy. They pitch you a little different. They're not going to keep bringing the ball inside to where you can pull it all the time.
I began my career in 1943 with Philadelphia had played in Fenway as an opposing player for quite a few seasons coming in with the Athletic uniform and then the Tiger uniform.
There was something about Boston and it still is today. I was traded for an idol: Pesky. But I did get a wonderful reception. I broadcasted for the Tigers for 37 years. I came into Fenway all through the summers at various times. There is something about Fenway Park that is a little bit different.
I felt like I would never go into a slump at Fenway Park. I felt like I could always reach that wall out there one time everyday, but I didn't. But it felt that way. And I felt like I could hit .300 there and I did the years I was there.
Everybody was trying to pull the ball. And I don't think I ever had so many hot shots hit right at me by people just like myself who were trying to reach the left-field wall. Day after day after day that I was very busy at third base. That didn't bother me. But I had to be more alert. There was not a lot of bunting, everybody was trying to reach the left-field fence and could. It was not an easy place to play third base.
Ted Williams came back from the Korean War and played at the end of my career there. Yes, I got to be close friends with Ted Williams. Maybe for one specific reason. When I won the batting title on the last day of the season in 1949, I won it because Ted went hitless that last day and I had a couple of hits. And I won it by two thousandths of point and boy I tell you to me it was tremendous for me but a tremendous loss for him because he was he was the all-time great hitter. And the next year at Fenway a man asked me if I would pose for a picture with Ted Williams. I left the dugout and I started over there.
Ted said, "No, no, no, we are going to make it in front of your dugout because you won the batting title from me fair and square."
And I thought, "what a wonderful man he is." We remained good friends from then on. . . .
Harvey Frommer is his 33rd consecutive year of writing sports books.
---
The author of 40 of them including the classics: "New York City Baseball,1947-1957" and "Shoeless Joe and Ragtime Baseball," his acclaimed REMEMBERING YANKEE STADIUM, an oral/narrative history (Abrams, Stewart, Tabori and Chang) was published in 2008 as well as a reprint version of his classic "Shoeless Joe and Ragtime Baseball." The prolific Frommer is at work on REMEMBERING FENWAY PARK (2010).
Frommer sports books are available direct from the author - discounted and autographed.
FROMMER SPORTSNET (syndicated) reaches a readership in the millions and is housed on Internet search engines for extended periods of time.